"As a busy massage therapist I am always struggling to find time to learn new techniques that I can add to my service menu. Taking time off work to learn new modalities is always a challenge for me and my clients. Now with the Sa-Baai-Nuat offered online, I can learn an amazing new treatment on my own time and at my own pace without leaving the comfort of my own home. "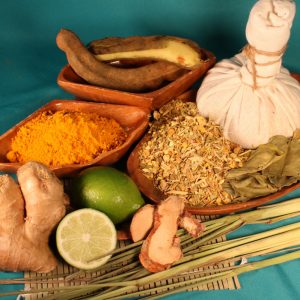 Dear Fellow Massage Enthusiasts,
Have you been searching for a Thai stem massage course you can do in the comfort of your own home and at your own pace?
Do you find it hard to take time away from your busy work schedule to attend a 3 day hands-on course?
Have you been looking for a treatment that you can provide to a loved one that is easy to do and doesn't hurt you in the process?
Do you know someone who would benefit from receiving an herbal massage in the comfort of their own home but don't know how to treat them?
Search no further!
The online Thai Stem Massage course is here and it's a "home study" version!
The Thai Stem Has Become Wildly Popular
Since the Thai herbal compress hit North American shores over a decade ago you had to search high and low to learn this amazing warm herbal body treatment. Finally, with months and months of hard work (and lots of fun) we have created a home version of the Sa-Baai-Nuat Thai Herbal Massage Course. Now you can learn this fabulous massage in the comfort of your home or clinic.
Use The Thai Stem From Head To Toe
This unique video walks you through a detailed full body massage incorporating simple Thai and Swedish techniques mixed with a heated Thai herbal compress. We show you how to massage almost every body part from the bottom of the feet to the top of the head. There is verbal instruction as well as written instruction and because it is on a video, you can stop rewind and pause it as often and for as long as you like.
Here's What You Get In The Thai Stem Massage Course
The online workbook covers:
History of the Sa-Baai-Nuat (Thai Stem Massage)
What is a Thai herbal compress?
Benefits of the Thai herbal compress
Top 10 Sen lines with detailed explanation
Review of history and benefits of  accessory applications: Indian Scalp massage; Lymphatic massage; Swedish Massage
Thai Sen line maps (Tai Mountain diagrams), face line map; Lymph Drainage map
Therapeutic Delight's own Top 10 Ballin' techniques
Safety precautions with contraindications, indications and modified CI's
Detailed outline of the hands-on portion of the Sa-Baai-Nuat
Homework logs & health history form for RMT certification (CMTO)
The video covers:
Prone and Supine positions
Thai Yoga massage on the table
Application of the Thai herbal compress
Swedish massage techniques
Feet, legs, hips, back, abdomen, chest, shoulders, arms, hands, neck, face and scalp
Draping
Pillowing
Client comfort
Here are a few screenshots of the video for the Thai stem massage course you will receive.
What Other Massage Therapists Are Saying About The Thai Stem Massage Course
Here's what one Massage therapist said about how the Sa-Baai-Nuat online course has helped her in her busy massage practice.
"Offering the Sa-Baai-Nuat, [Thai Stem Massage] to my clients was the best thing I could have done for my practice. Due to the many benefits of the Thai and Swedish massage techniques and the herbal compress, I can provide an all-in-one treatment to my client that remedies almost any ailment. The Sa-Baai-Nuat is a great addition to my practice and because I am the only one providing it, I can not only increase my client base by offering a unique massage but I can charge a premium for doing it. Besides that, my clients just can't seem to get enough of it and are returning week after week for more!"
Our 30 Day 100% Money Back Guarantee
If for whatever reason, within 30 days, you are not fully satisfied with this course, I will refund you your money back...no questions asked.

This course being offered for

$349  but for a limited time you can purchase this course for only

$249

. 

The cost of this information would normally cost you not only the training but potentially travel and lodging as well.

The Thai Herbal Stem Course is the only course available online and it's the only course where you can study at your own convenience - without leaving your house!
Thank You For Visiting My Site!